What is a fuel cell?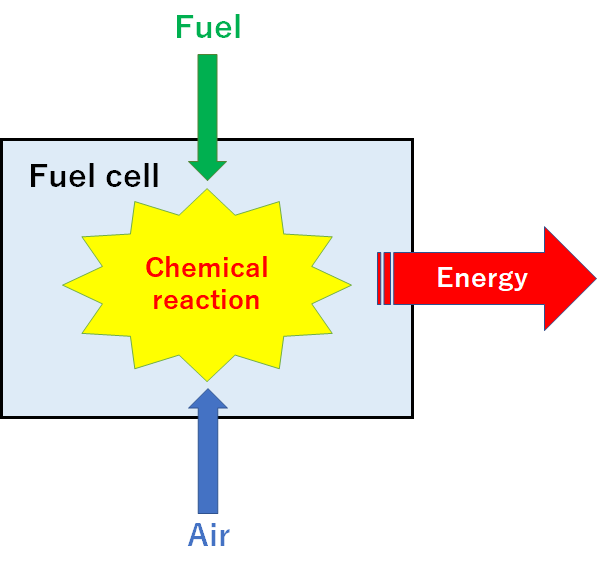 A fuel cell generates electricity through chemical reactions between a
fuel (often hydrogen) and oxygen from the air.
Fuel cells serve as power generators that can produce electricity
continuously for as long as fuel and oxygen are supplied.
How to generate electricity – the reverse of "water electrolysis"
Water electrolysis: the process whereby water is decomposed into hydrogen and oxygen through the application of electrical energy
↑
↓
Fuel cell: a device that generates electricity through electrochemical reactions between hydrogen and oxygen

◆Oxygen (O2) in the air is used.
◆Hydrogen (H2) is extracted from natural gas.
How a fuel cell works
Hydrogen is divided into electrons and hydrogen ions at the anode.
Electrons produced from the decomposition of hydrogen travel through an external circuit to generate electricity.
Hydrogen ions then travel through the electrolyte to the cathode where they combine with O2 and electrons supplied from
the external circuit to form water.
References
Ikeda, Hironosuke. Nenryo Denchi no Subete (All about Fuel Cells). Tokyo, Japan: Nippon Jitsugyo Publishing.
Homma, Takuya. Zukai, Nenryo Denchi no Subete (All about Fuel Cells, Illustrated). Tokyo, Japan: Kogyo
Chosakai Publishing Co., Ltd.
Website of New Energy and Industrial Technology Development Organization
Website of the Japan Gas Association
Website of Tokyo Gas Co., Ltd.