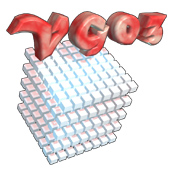 Welcome to VG03
Organization
Corporate partners
Final program
Keynote speech
Invited talk
Capstone address
Social events
Registration
Venue and hotels
Original call for papers
Proceedings
Information for authors
Important dates
Photographs
Third International Workshop on Volume Graphics
7 - 8 July 2003
Tokyo Institute of Technology, Tokyo, Japan
---
WELCOME TO VG03
The advances in volume visualization over the past decades, coupled with the rapid increase in computer power, suggest that volume visualization may be developed into volume graphics, as a general purpose graphics technology. In order to explore further the potential of volume-based techniques, especially beyond the scope of volume visualization, it is necessary to bring together researchers and applications developers from both the academic and industry sectors who are working, or wish to work, on volume-based graphics techniques. The objective of this workshop is therefore to provide the international computer graphics community with a platform to:
review and assess the developments of techniques for volume-based modeling, rendering, manipulation and applications;
develop a scientific framework for the research and development in volume graphics as an emerging sub-field of computer graphics, and compile a clear picture of existing knowledge and topics for further investigation;
challenge researchers in areas of volume visualization and other volume-based graphics work to develop their work further in order to impact on the mainstream computer graphics, and to explore a wider range of applications.
In the same way as previous workshops in Swansea (1999) and Stony Brook (2001), this workshop will continue focusing on the latest development of volume graphics through paper presentations and keynote lectures.

Arie Kaufman, Issei Fujishiro, and Klaus Mueller